First off, this week I am joing Life of Meg's
Mingle Monday
, so head on over there and check out the other participants.
Second, there are a few new shows starting this week on Bravo, and I am very excited about them.
The Rachel Zoe Project
The Rachel Zoe Project starts on Tuesday (8/3) at 10 pm. I think this is possibly the 3rd season and I have really enjoyed the first 2 seasons. I would say this is probably one of my favorite shows on Bravo and I am glad they are bringing it back.
It's so much fun to see what all goes into getting celebrities ready for award shows and appearances, throw in some fabulous fashion, a crisis or 2, and of course Rachel's fun Zoe-isms ("I die" and "that's bananas").
Of course Rachel is my favorite, but I also love Brad (one of Rachel's assistants). I think he is so funny and quirky. I also think Roger (Rachel's husband) is a great fit for Rachel. He keeps her grounded in her crazy life. It's funny to see them shopping together because Rachel will try and buy the whole store, and Roger is like, do you really need another vintage dress/top/jewelry/shoes/etc. Sometimes she even hides stuff from him. I am sure she has enough clothes he can't keep track of everything.
I am curious because the previews show that Taylor (Rachel's other assistant) is no longer with the company. Last season she threatened to quit a couple of times, so I am curious if she quit this time, or was fired. I guess we will find out. My favorite episodes so far are when they went to Paris for fashion week.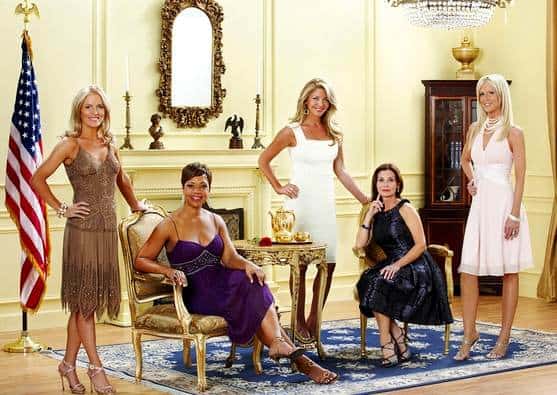 The Real Housewives of Washington DC
The Real Housewives of Washington DC starts this Thurs (8/5) at 9 pm, right before the season finale of Bethenny Getting Married. I am excited to see this show, but am not sure if I will like these ladies. They seem a little stuck up and snooty, but we will see.
I thought it was interesting that the White House crashers are on the show. My boyfriend is boycotting this show because of that, and feels that they were only doing it to get a reality show, which I thought was the case also, but it looks liked they crashed the White House as part of the show. Hmmm…and how did Bravo pull that off, we will see. I keep telling him this is just entertainment, and to get over it.
Does anyone else have boyfriends/husbands/significant others who complain about the shows you watch??
Flipping Out
My other very favorite Bravo show comes on next Tues (8/10) at 9 pm and that is Flipping Out. I think this is season 4 of this show. Jeff Lewis is crazy funny. He can be a jerk, but he knows it, accepts it, and doesn't apologize for it.
My two favorite characters are Zoila, his housekeeper, and Jenny his assistant. The fact that these two women can put up with him and his crazy OCD'ness, is amazing. And I love how they tell him how it is.
There are too many episodes that I loved, but I think a few of my favorites were when he installs cameras to spy on his employees, when he has Jenny's alter ego "Deb" call on his contractors to get things done, and when he has to go over to a potential client's house for a "pajama party" dinner. Oh and who can forget the painting of Zoila. We all know he loves her like family.
I highly recommend you check these shows out, and let me know what you think.