So like many of you, I have been starting to get the urge to go clothes shopping for the Fall season, but have been trying to hold off for a couple of reasons:
1. The weather has still been pretty warm out (upper 80's), so it's not really the best time to be buying sweaters and boots. They would just sit in my closet for another month or so.
2. I really don't need to be spending money on clothes, especially since I just bought a bunch of stuff on clearance at the Loft a few weeks ago.
3. I recently cleaned out my closet and got rid of about 4 or 5 garbage bags of clothes, and I still had a bunch of clothes that I hadn't worn in forever because I kind of forgot about them.
So I came up with this great challenge for myself that I am calling the 30 Days Clothes Challenge. I am challenging myself to wear everything in my closet before the new season starts. I am going to go 30 (work) days and not wear the same thing twice. Now pants and cardigans will be worn more than once, but tops, only once.
I decided to make this a work day only challenge because I'll be honest, sometimes I just wear sweats or workout clothes on the weekends, and that is not very exciting. So for the next 6 weeks, I'll try to wear something different to work each day. It will be challenging because Labor Day is coming up, and then I have 2 vacation days coming up, so I'll figure out something. I might throw a weekend outfit in there, or I might just extend it out, we will just see how it goes. If I can make it through the next 6 weeks, then I can reward myself with a fall outfit that I can actually wear!
Each week (on Friday), I'll post what I wore that week. It will help keep me honest. I'll post once a week as to not bore everyone with my clothing posts. So far this week wasn't hard because I could pretty much wear anything. I'll be honest though, I started to freak out by Wed because I didn't want to wear all of my favorite clothes at the beginning and then get frustrated at the end of the challenge. I think I need to plan out my outfits on the weekends so that I don't stand there in front of my closet every morning, like I typically do, wondering what to wear. So I hope you enjoy my journey, and wish me luck!
This week's results:
**Please note I apologize in advance, I haven't mastered the art of taking a picture of myself in the mirror, so hopefully over the next 6 weeks, I'll figure out how to take a decent picture of myself. Here's hoping!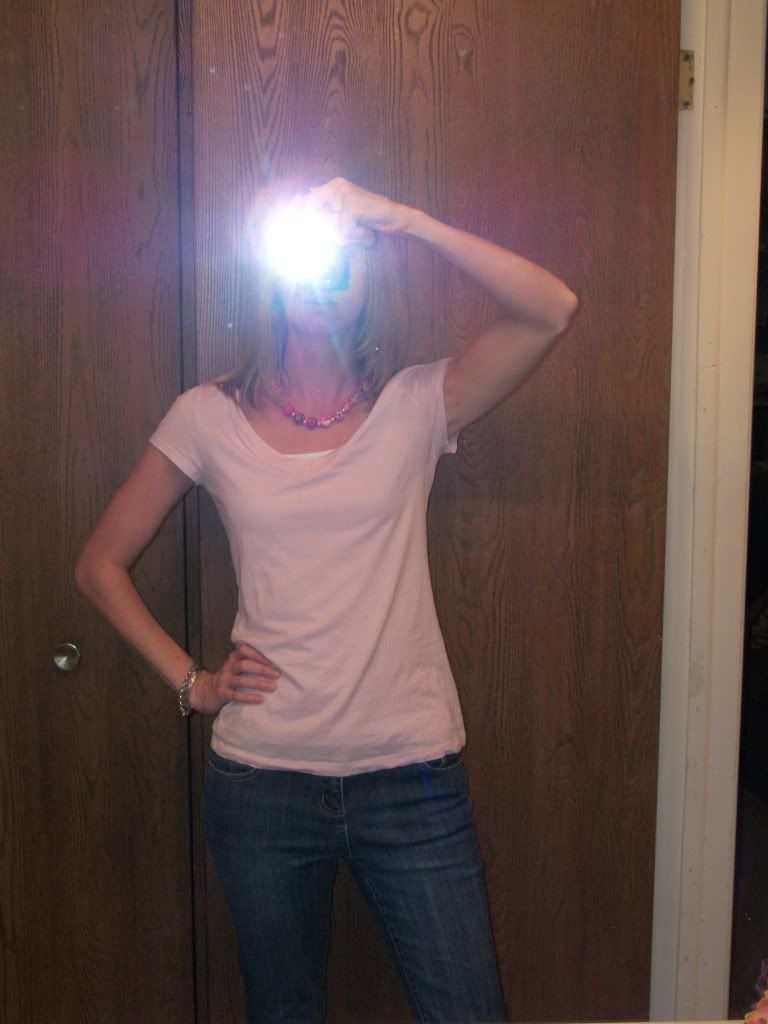 Day 1: Monday -- Wore Ann Taylor Loft pink t-shirt and Limited jeans
with Viva Beads necklace (one of my favs!)
Day 1: Monday -- I also wore an Ann Taylor Loft cardigan in case
I got cold at the office, plus it was a little chilly out that morning
Day 2: Tuesday -- American Eagle top, Loft jeans
and Lia Sophia necklace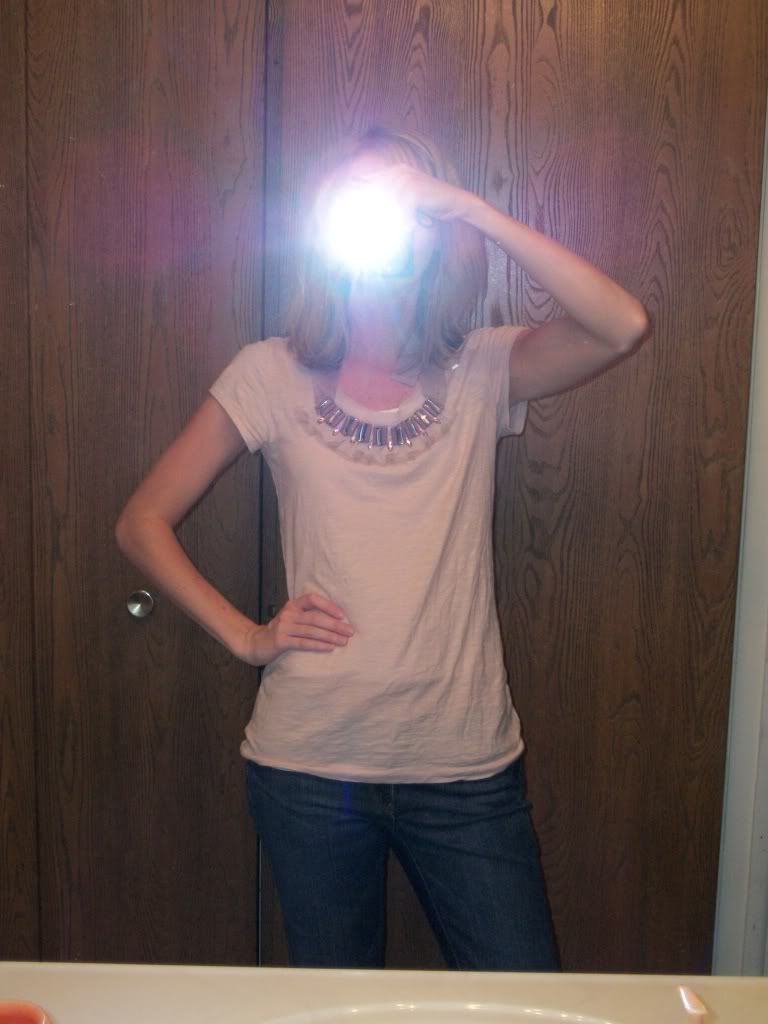 Day 3: Wednesday -- Ann Taylor Loft shirt
with faux necklace and Loft jeans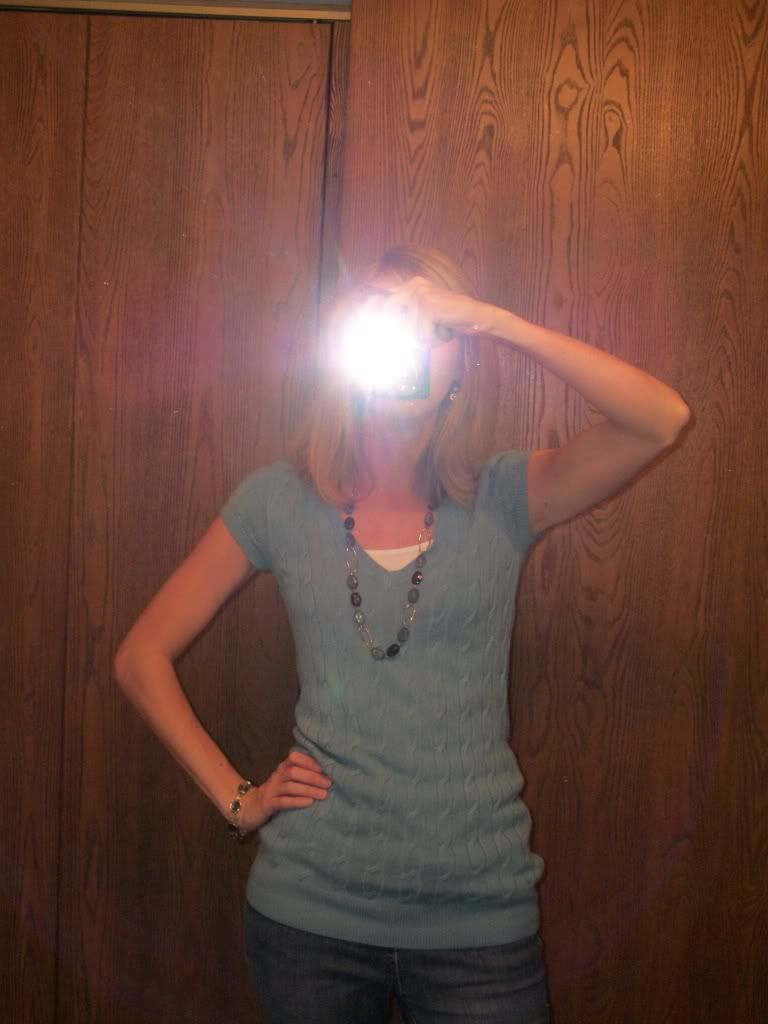 Day 4: Thursday -- New York & Co top, Limited jeans, necklace from
Kohls, and earrings and bracelet from Lia Sophia
Day 5: Friday -- Gap dress and Lia Sophia necklace
(BTW: this dress is a pretty plum color,
but it's hard to tell in this pic)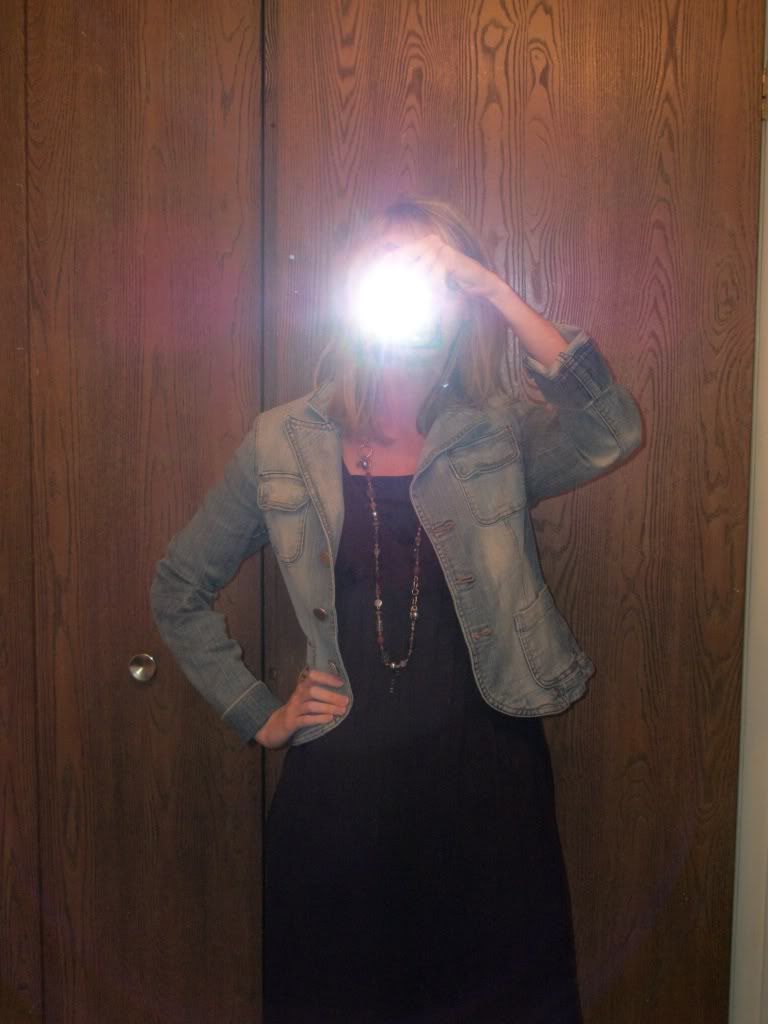 Day 5: Friday -- I also wore a jean jacket from dELiA*s
So that is what I wore all week. As you can see, I wear a lot of jeans to work, but I am hoping to start mixing up with more dress pants. I also love to wear a dress to work about once a week. Usually for a client meeting or on Fridays. We are allowed to wear jeans to work, but if we do have a client meeting, we have to dress up. A very big perk to my job!
Hope you enjoyed, and stop back next Friday to see if I made it through another week!