For this week's Pink Saturday, I wanted to focus on decorating. And I need your help!
I have been looking for centerpiece/decorations for my dining room table and my living room coffee table for some time now, and can't seem to figure out what I want to do.
This is a fun pink/purple orchid (faux, because I would probably kill a real one in a matter of days) I found for my dining room table, but I am not sure I am 100% happy with it. I left the tag on it, so let's see if it makes it through the weekend. I have paired it with a cute green table runner (with cute butterflies and fireflies) and my crystal candle holders with sage green candles.
At first I was looking to either buy or make a topiary, but I already have 2 in my house, so I was trying to find something a little different, and I think orchids are very pretty.
I have 2 options so far for my coffee table.
This has been on my coffee table for a couple of years now. The base is from Southern Living at Home, and I filled with some ivy and then the glass hurricane is from Pier 1. I like it, but I am just kind of bored with it since I have been looking at it every day for a few years (I just keep changing out the candle and the ivy depending on the season).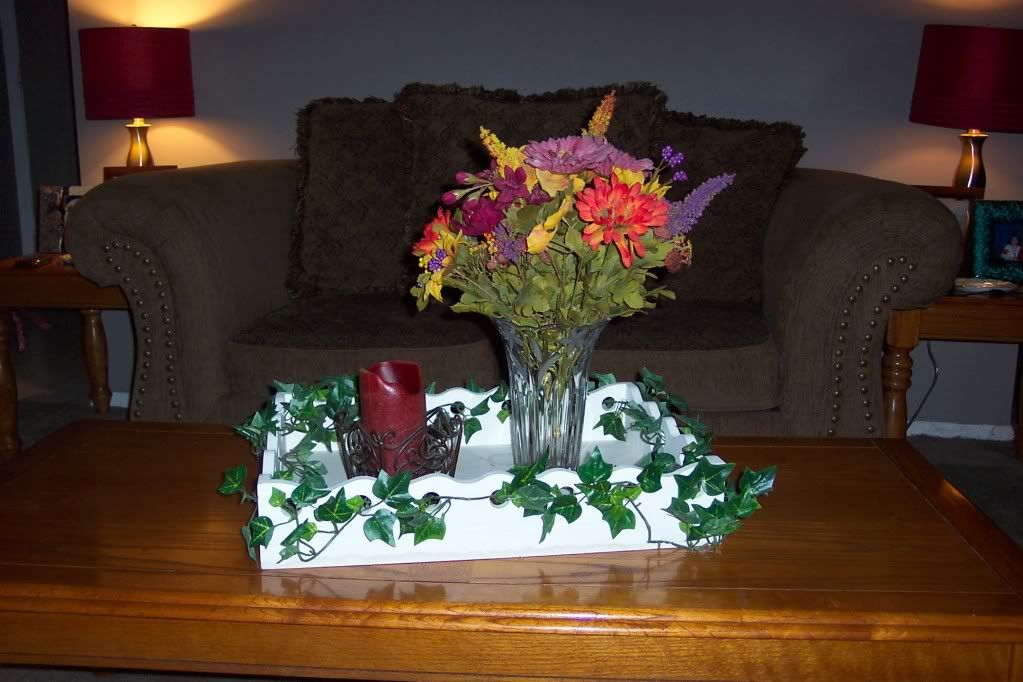 I had this on my coffee table about 6 years ago. The tray is also from Southern Living at Home, and I weaved some ivy in the little holes on the side of the tray. It's a little big for my coffee table, and I can't seem to figure out what I want to put in the tray. Right now I have one of my crystal vases (matches my candle holders) and a Southern Living at Home planter with a candle. I like the tray, but am not 100% happy with what's in it. (I also think I need to straighten out that ivy...it's the same ivy I had from way back when I used this tray...ha!)
I am open to ideas that can either improve my options or even some new options as well. Let me know what you think.
Thanks for stopping by, and happy Pink Saturday. To find out more about Pink Saturday, check out
Beverly's
blog.
The Pink Saturday participant that I visited this week was
Mary Beth at live. laugh. make something
. I just loved her "Peep Show" post from last week! Check out her blog.