This week's Tips Tuesday (hosted by Leslie at
Lambers Lately
) is Tips for general cleaning.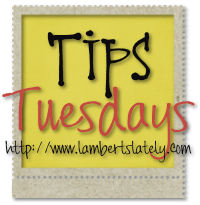 I actually enjoy cleaning (maybe it's my OCD coming out). Even though I live by myself, I clean every week. It's funny because when I was 15 years old, I used to clean my parents' and neighbors' houses during the summer. I was so desperate for my own money!!
Typically I do the majority of my cleaning on the weekends, because I just don't have time during the week, but I do try and keep things picked up throughout the week. This allows me to focus on the major cleaning on the weekends and keeps my time down to a few short hours.
Every weekend I clean the bathrooms and sweep. I clean out the fridge and clean the kitchen on Thurs or Fri after I go to the grocery store. As for dusting, moping, and other really heavy duty cleaning, I tend to do that either every 2 weeks, or maybe once a month (it just depends on when it needs it).
Tips/products that I typically use include:
1. Commet -- I use this for cleaning bathtubs, toilets, the kitchen sink. It's a great general cleaner, and is really inexpensive.
2. For counters I tend to use a spray cleaner, typically whatever states it will kill germs and is on sale. Right now I think I am using Lysol bathroom cleaner.
3. Mr Clean Magic Eraser -- This is so wonderful to get scuffs off floors, walls, etc. If you don't have one, go out and get one!
4. Swiffer and Mr Clean -- I use a swiffer to mop, but I actually use Mr Clean in a spray bottle instead of the swiffer refill. They got so expensive to replace, so I bought a large bottle of Mr Clean and put some in a spray bottle with water and use that instead. I think the bottle of Mr Clean I bought has lasted me about 2 years now.
5. Organizing cleaning products -- I have all of my cleaning products stored in a little bucket with a handle (see pic below). This helps keep everything together, and the handle makes it easy to carry from room to room.
6. A clean smelling house is a happy house -- I am a big fan of candles and airfreshners. It really helps to keep things smelling clean, especially if you have pets. I am in love with the Bath and Body Works Wallflowers and I also love their Slatkin & Co. candles. My favorites in the winter are Fireside, Spice, Cranberry and Sweet Cinnamon Pumpkin. For the spring and summer I really like the floral and tropical scents.
If anyone has any great cleaning tips, please share. Otherwise, head on over to Leslie's blog for even more cleaning tips.