Happy Valentines Day to everyone! Just wanted to share some of my Valentines weekend fun!

Friday night my boyfriend and I celebrated our Valentines Day. We went out to dinner at
Marcellas
, which i love!! I had the Penne Alla Vodka and he had the Chicken Parmesan. Both were delicious!!

Then when we got home we exchanged gifts. I gave him his homemade sugar cookies (which I shared in yesterdays
Pink Saturday
),
and a card, and he gave me some beautiful tulips, a card, and some homemade cookie bars. Isn't it funny we gave each other baked gifts?!? Neither one of us really likes candy, but we both LOVE cookies!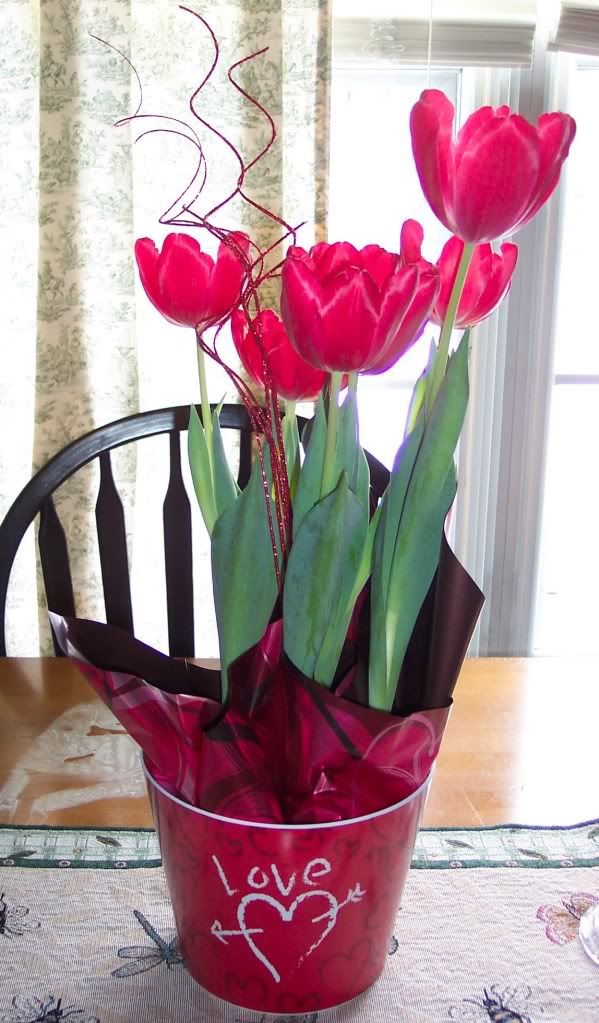 Flowers from my boyfriend.
Peanut butter cookie bars with melted chocolate (very good, I can't stop eating them!!)

Then on Saturday, I hung out with a few of my girlfriends to celebrate one of my girlfriend's birthday. We went out to lunch, and then went to go see the movie Valentines Day.

It was pretty cute! It did have a lot of story lines, and the only thing that I didn't like about it is because there were so many story lines, you didn't really get a chance to really bond with the main characters (like you do with so many romatic comedies) with so many main characters. Parts of the ending though were kind of suprising.

After that we went back to my place for Enchilada Night. I made the following Chile-Chicken Enchiladas (I found this recipe on bettycrocker.com but I modified it; you can find the original recipe
here
).
Chile-Chicken Enchiladas (Jen's version)
1 can (19 oz) enchilada sauce (any variety)
2 cups diced cooked chicken
2 cups shredded fiesta blend cheese
1/2 cup sour cream
1 can (4.5 oz) chopped green chiles
1/4 of yellow onion
6 flour tortillas for burritos

Pour half of the enchilada sauce in the bottom of a greased baking dish.

Then mix the chicken, 1 cup of cheese, sour cream, green chiles and onion into a bowl and mix together. Then spoon the mixture into the 6 tortillas. Roll up the tortillas and place seam side down in the baking dish. Then pour the rest of the enchilada sauce over the tortillas and cover with the remaining 1 cup of cheese (or more if you really like cheese!!).

Then cover with foil and bake at 350 for 35 mins. Then remove the foil and bake an additional 5-10 mins until the cheese is melted and slightly brown.

We also made some salsa, guac and homemade tortilla chips (just cut tortillas into 6 triangle pieces by cutting in half and then cut the halfs into thirds), spraying butter or oil on them along with some sea salt, and baking at 350 for 4 mins and then flipping and baking for an additional 3-4 mins until they are slightly brown (so good!!)

We also watched Love Happens with Jennifer Aniston & Aaron Eckhart while we ate dinner. It was a cute movie as well.
Today I have just been relaxing, catching up on my DVR and doing a little cleaning. Hope everyone had a great weekend as well!