Kelly over at
Kelly's Korner
has a weekly Show Us Your Life every Friday. This week's it's all about collections.
Now I don't have anything major that I collect such as antiques, or Barbies, or anything like that, but over the last few years I have found that I have an obession with collecting recipes. It's funny because I am not that great at cooking, much better at baking, but I get obsessed with cookbooks and other kitchen gadgets.
Lately I have been challenging myself to try at least one new recipe from my collection a week. Since I typically only cook for myself, even one recipe a week can lead to meals all week long. In addition to cooking a dinner item, sometimes I might try someting for breakfast or snacks/desserts as well. So far I have been doing pretty good, and am really enjoying it.
These are just a few of the cookbooks that I have collected.
Some of my favorites include:
Giada's Kitchen -- love her! And I watch her show every week! And some of her recipes can be very simple, even though the dish looks like it can be complex.
Hungry Girl 200 under 200 -- these are such simple recipes and not bad on fat and calories. There are a lot of ingredients that you may not typically have on hand that you need such as splenda, egg beaters, vita tops, etc. Other than that, everything I have tried has been pretty good.
The Pioneer Woman Cooks -- I ordered this off of amazon and recieved it this week. I am really excited to try some of these recipes.
Giada at Home -- I have this on pre-order, so I can't wait to get it!! Did I mention that I love her!!
In addition to cookbooks, I have been collecting recipes online for a couple of years now and my collection is getting rather large. I have put together some binders (I am now at 2) to organize all of my recipes.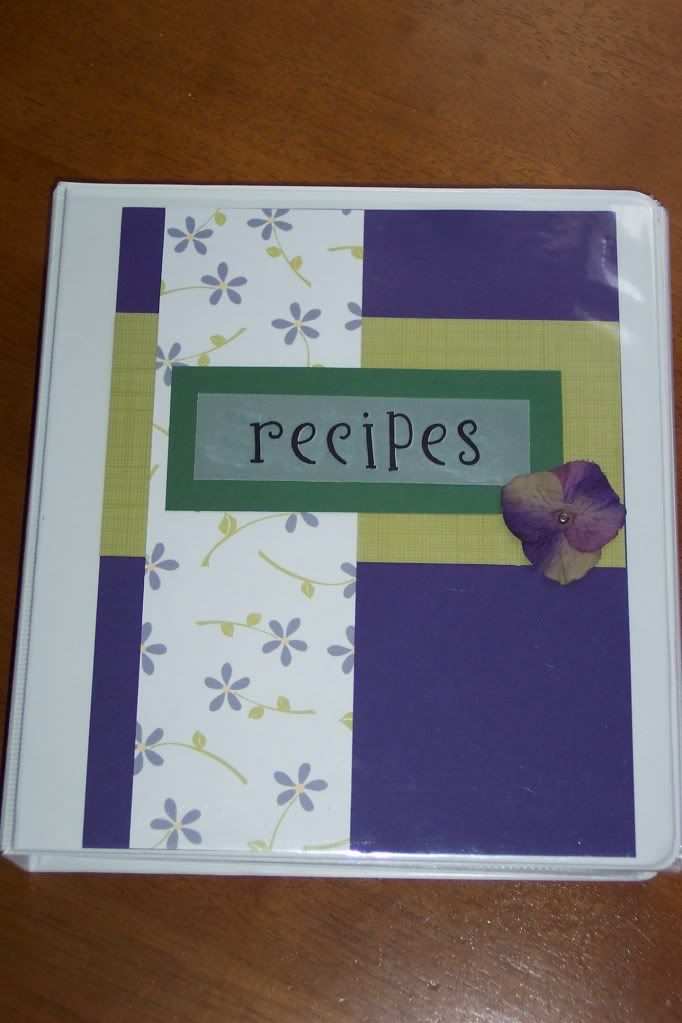 This is just one of my binders, and you can read more about my recipe binders here.
Does anyone have any cookbook recommendations or favorite websites to find recipes? I am always looking to add to my collection.