This week's Tips Tuesday (hosted by Leslie at
Lamberts Lately
) is Tips for Decorating.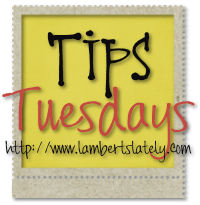 I love decorating, and sometimes I wish I would have gone into decorating as a career. I am not sure though if this post will turn into tips, or just things I like, but I think that either way hopefully it will bring some inspiration to try new things in your home. I am also going to include some pictures of my home so you can see what my style is like.
Inspiration -- I like to look at nature, gardens, food, etc. to find inspiration for colors and textures when I decorate. Sometimes nature can help you pull together a great color pallet for a room because everything just comes together naturally. I also like to find inspiration in magazines (love Martha Stewart Living, BHG and Domino), tv shows (love many HGTV shows such as Design on a Dime and Divine Design), or many decorating websites (there are so many!!)
Neutrals are key -- Especially with major things such as cabinets, flooring, fixtures, etc. I love bold colors (which is my next point), but that doesn't mean that when you sell your home that the next person will love it. Try to keep things that are hard to replace neutral to keep your home value up.
Go bold -- I love bold colors on accent walls (especially for really bold colors), or even the whole room if it is small and the color isn't too crazy. Paint is something that can easily be changed, and isn't too expensive (unless you have a really big room). I also like to add bold colors to pillows, candles, lamps, and other accents.
Chocolate Brown -- Love this color, expecially for furniture when you have kids and dogs! The dark color seems to hide dirt and stains, and if you find a really good texture, it tends to hide the dog hair!
Family photos -- I love to fill my home with family photos. I have a ton of photos of my nieces and nephew, my boyfriend, friends, dog, etc. It just helps to personalize the space, and I'll be honest, they also make me smile, especially when I miss all of them.
Homemade accents -- I am lucky that I have a talented family. My grandfather is great with woodworking and has made a lot of things for my home (see above for DVD cabinet). My mother also one time painted a picture for me (see below). These are great because they are personalized and they remind me of my family.

Sewing -- If you are able to sew, this is great because it will allow you to make things you love, and will also help save you money. I have made pillows, curtains, coasters and table centerpieces to name a few (see below for dining room curtains and above for bedroom curtains).
Above all, go with your gut and whatever you like is what you should do. You should always fill your home with things you love!