This week's Tips Tuesday (hosted by Leslie at
Lamberts Lately
) is Tips for Organization.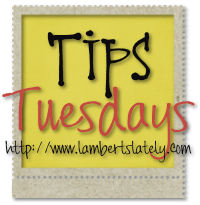 I actually have OCD, so this was a great post for me. I have actually been trying to overcome some of my OCD (now it is totally not that out of control, but something that can drive me nuts), so I have found a few organization tips that seem to help keep things organized, but doesn't require a lot of dedicated time.
I am a huge fun of keeping things in bins, buckets, containers, etc. And I have them EVERYWHERE (in closets, under sinks, in drawers, on shelfs). All of my drawers are divided up by some type of container. Now of course you can get some pretty nice (and equally expensive) ones at the Container Store, but I use those cheap tupperware containers that you can get at Walmart. I find small ones in different shapes and sizes and place them side by side in my drawers to keep them from getting out of control.
This is actually one of my kitchen drawers, and it pretty much stays this way...no I didn't clean it up before I took this picture =) The little containers help keep everything in place so it doesn't get all stirred around.
Here is my jewelry drawer. These are actually boxes that I got my Lia Sophia jewelry in (I just realized this shows how bad my obsession with Lia Sophia jewelry is!) Anyway, this helps keep everything visible so I know what I have, and keeps it from getting tangled.
This is how I store my earrings. I recieved this as a gift from one of my previous supervisors. It's an antique frame, and she put a screen (you know like a door screen) in it, and you hang your earrings through the little screen holes. It helps keep your jewlery organized, and it's cute!
Keeping with the bins, this is my laundry area, and I have some plastic kitchen bins, and some cloth bins (which I got at Walmart for really cheap) to store odds and ends. I pretty much know what goes in each bin, so it helps keep things organized, but allows you to just toss stuff in a bin. I have bins for cleaning supplies, dog food, misc. laundry items, a dog bin, and a bin for one of my friend's personal/beauty items who comes and stays with me often.
Books: I read a TON of books, so I started a spreadsheet of all of the books I have read. This helps me keep from reading books I have already read, and it's nice to look back at books that I have previously read. I have actually emailed my spreadsheet to friends who are looking for recommendations. I also keep a list of books I would like to read so that when I am reserving things from the library I know what books I want to read.
Magazines: I don't have a ton of room to store books and magazines (which is why I tend to rent books from the library), so in order to save space, I have started binders for ideas I have found in magazines. I am starting tabs for beauty tips, fitness tips, and home ideas. This allows me to keep the ideas I like, and then I just recycle the rest of the magazine.
Mail/Bills: As for bills, I have started getting paperless statements through my email, which helps cut down on mail! If you go to
Mycheckfree.com
you can actually get an email reminder to pay your bill. With one click, you can log-on and pay your utility bills, and even some car/loan payments. All other mail items I immediatly go through and recycle all the junk mail. I have a little basket that I keep everything else in, and once a month I go through the basket and throw away anything I don't need, and deal with all the rest.
Shoes: I actually keep all of my shoes in their original shoe boxes, and stack them on the top shelf in my closet. I actually have a ton of shoes, and had to start a 2nd closet -- but my boyfriend doesn't know that yet =) This helps keep them organized, but also keeps them clean and from getting dinged.
I could go on and on, but I'll spare everyone with my organizational obsessions! If anyone has any organizational tips you would like to share, please do so. Otherwise, head on over to
Leslie's
blog for even more tips.