This week's Tips Tuesday (hosted by Leslie at
Lamberts Lately
) is Tips for Clothes Shopping. I have been traveling all week, so unfortunately this is going to have to be a Tips Wednesday for me =)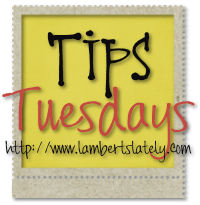 First of all, my favorite stores right now are
The Limited
and
Ann Taylor Loft
. I also sometimes go into the Gap, but haven't been there in a while. I don't really like big department stores like Macy's and Nordstrom because I feel like they are too big, but I have been known to shop there every once in a while (especially for shoes!!). I really love small boutique type shops. I also love DSW for shoes (and I totally have a problem there).
I love shopping and getting great deals on clothes. I have what they say champaign taste on a beer budget, but I do find ways to find nice clothes without breaking the bank. One thing I try to do is never pay full price. It may take some work, but in the end you can typically get whatever you want, and still have some money left over.
Coupons – Of course, whenever I can I try and use coupons. You can typically get these by signing up on store email and mailing lists. I know at Bath & Body Works every time I go in there they ask for my email address. One time I asked them, why do you keep asking, I am already signed up, and they said that every time you give them your email address, it bumps you up in the system to get even more coupons. Also, if you get coupons in your emails, print multiple copies so you can use them more than once. There is not typically a code that lets you only use them once.
Store Cards – I know many people are against credit cards, and I try not to have too many, or too much of a balance, but for my very favorite stores I've signed up for store credit cards. I never carry a balance and pay them off every month, but every time I use them I build up store credits which equal free money. I also pay attention to my statement date and if you play it right, you can actually go about a month and a half before you have to actually make your payment. For instance, some of my statements end around the 7th – 11th of every month. If I go shopping on March 15, I won't have to pay my bill until the first of May. I try to work it that way so that it makes paying off my bill in full much easier.
Email Lists – I love being on email lists for my favorite stores. Now it can get overwhelming sometimes, so you need to make sure to only sign up for things you like, or you will get a million emails. But some stores are great and will email you when things go on sale. For instance, I love Ann Taylor Loft, and they will email me when certain items are half-off or even more. I got a great sweater one time, reg $49.50 for only $20!! I saw that email and immediately when out to get it.
Stalking – Yes, I admit to stalking sales on certain pieces. I used to do this a lot at Gap. Never pay full price, because it will go on sale at some point in time. I live and work very close to shopping plazas, so this is easy for me. If I find something I truly love, I will go back to the store once a week or so and see if it is on sale. Maybe you will think I am crazy, and I probably am, but I have gotten some great deals that way. You can check online also. Sometimes the sale prices are the same, but not always, so be careful. I have called the store before to confirm if something that was on sale online was on sale in the store, and then I typically have them hold that item for me until I can get out there to get it. A little research never hurts when you are looking for a great deal!
Become Friendly with the Store Associates – The Store Associates can be very helpful. Many times they want to help you out. For instance, at The Limited, they are always very friendly, and are always saying, check this out, it's on sale. Also, if you ask them, they will help you maximize your coupons to get the best deal. Sometimes if you really click with them, they will let you combine coupons, which is not supposed to be done, but I have gotten away with it a couple of times. They typically want to help (although, yes there are a few who don't care), but for the most part they do.
If you have any great tips please share. I am always looking for ways to find a great deal. Also, check out
Leslie's
blog for even more tips.