This week's Tips Tuesday (hosted by Leslie at
Lamberts Lately
) is Making Your Own.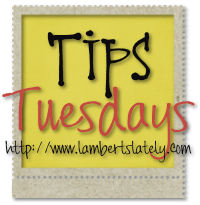 I really love when I can make anything on my own. It not only helps save money, but it just feels good to be able to accomplish something. Some things that I like to make on my own include:
Fake-out Take-out: I love to try and find ways to make restaurant food at home. Some of my favorite things to make are my Fake-out Chipotle (see below for recipe) and I also like to make CPK BBQ chicken pizza (I found a great recipe on
Pioneer Woman
that is a great fake-out for this). I also found some great Girl Scout Cookie fake-outs here
Samoas
and
Thin Mints
which I want to try.
Fake-out Chipotle:
-- Bird's Eye Steam Fresh Mexican Corn
-- Minute rice
-- Salsa
-- Cheese
-- Sour cream
-- A little hot sauce
-- I also make homemade pita chips by cutting up pitas into little triangles, spraying with either spray butter or a little olive oil, sprinkling some sea salt and then baking at 350 for about 7 mins or until slightly brown
Dog Items: I have made dog treats before, and although they were very easy, and the majority of the ingredients I had on hand, they did take a little time. You have to bake them and then let them sit in the oven a couple of hours to cool down and harden. My Grandmother gave me some fun dog bone shaped cookie cutters, so they turned out to be very cute though and my pup loved them. I need to make some more and give them away as gifts.
I also like to make my pup bandannas out of fun fabric (especially for the holidays) and my Mom likes to make her dogs' toys. She takes strips of fleece fabric, and braids them and then ties the ends in knots. My pup doesn't really like them because she would prefer to tear the stuffing out of toys, but if your dog loves to play tug-of-war like my parent's dogs do, then your pup will love them!
If anyone has any great Fake-out food tips please share! I love getting new recipes. Also, check out
Leslie's
blog for even more tips.